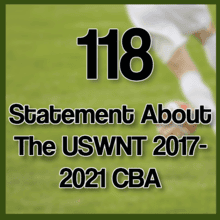 On February 12th, 2020, the players association representing the men's national soccer team made a public statement that sends shock waves through the United States soccer community. If we are to believe the statement they made, it effectively draws back the curtain on previously confidential negotiations between the United States Soccer Federation and its professional players. At best, this statement hints to the inner workings of United States soccer and suggests some ways in which leadership can improve the system. At worst, their statement cripples trust and condemns our system as deeply flawed. At the very least, it draws people like you and I into the debate around discrimination and fair pay. Let's talk about it.
A Tipping Point (The Lawsuit from USWNT)
On March 8th, 2019, the United States Women's National Team filed a gender discrimination lawsuit against U.S. Soccer in federal court. This lawsuit, case number 2:29-CV-01717, is a class action complaint, 25 pages long, brought by current and former members of the US Women's National Team with the help of the legal firm Winston & Strawn LLP. It alleges violations of the Equal Pay Act (EPA), and title VII of the Civil Rights Act of 1964.
The USSF discriminates against Plaintiffs, and the class that they seek to represent, by paying them less than members of the MNT for substantially equal work and by denying them at least equal playing, training, and travel conditions; equal promotion of their games; equal support and development for their games; and other terms and conditions of employment equal to the MNT.
The lawsuit "seeks an end to the USSF's discriminatory practices, and an award to make Plaintiffs and the class whole, as well as to provide for liquidated and punitive damages and all other appropriate relief."
It might help to understand this dispute as one between employers (USSF) and labor (the USWNT in this case). The WNT is presenting themselves as employees of USSF, a 501(c)3 nonprofit. They represent that they receive pay and a series of benefits from USSF such as coaches, trainers, nutritionists, doctors, massage therapists, etc. To give you some context around staffing, at the USSF annual general meeting (AGM) on the 14th of February, USSF revealed that the USWNT has a staff of 35 people caring for 23 players.
In addition to staffing, the class action reveals the USSF provides other benefits like deciding the number of games that will be played, where they will be played, practice fields, locker rooms, game surfaces, exercise equipment, scheduling times, transportation, and more.
The WNT claims that USSF provides centralized management and control, that the women require equal skill, effort and responsibilities as their male counterparts, and that the women have "Achieved unmatched success in International soccer leading to substantial profits for the USSF as <their> employer."
Some stats the WNT cite include three World Cup titles and four Olympic Gold Medals. They point out that they were three-time winners of the U.S. Olympic Committee's Team of the Year Award, and Sports Illustrated's Athlete of the Year. They're ranked number one in the World, a position they've held for ten out of the last eleven years.
They claim to have generated "substantial" revenue and profits for the USSF. This is a claim I questioned as I read through the materials in preparation for this show. As President of a 501(c)3 nonprofit myself, I know it is not legal to generate profit in the pure sense. For your information, what we might call "profit" in the nonprofit world is usually classified as "retained earnings." In other words, money generated must be recycled back into support of the mission - something I may talk more about at another time.
There are several references in this class action to "profit," "net loss," and "net profit" that I hope can be better clarified with the help of an actual nonprofit accounting professional. Using these terms the way they are used in this complaint makes me suspicious of the way the math was done and the assumptions made. But that's the investment banker in me. I'm not an accounting professional trained in fund accounting - the type of accounting used by nonprofits.
To summarize the rest, WNT cite the many ways the WNT and the MNT are similar, several ways they are different, and claim that they are being unfairly treated. Claims that come with plenty of examples.
The complaint further states:
If you want me to dissect the WNT lawsuit more, let me know. You can read all 25 pages yourself from the list of resources in my show notes below, or you can ask me to go into more detail in another episode. For now, I'll leave this part of the discussion with a general comment that the lawsuit is full of specific example, assumptions, and math that seem to raise enough issues for me to be hopeful that it gets worked out properly in the court. I'm no lawyer, but from what I've read in the complaint, the WNT has made a case that compels discussion.
US Soccer Collective Bargaining Agreements (CBA)
To understand the statement made by USNSTPA, it's good to know that the way that men and women national team players negotiate what they will be paid is through what's called a Collective Bargaining Agreement or "CBA." CBA's for the men and for the women are negotiated separately. The last men's CBA was executed (signed) in 2011 for the 2011-2018 time frame. The last women's CBA was executed in 2017 for the 2017-2021 time frame. The men are reportedly playing on an expired CBA now.
CBA's are negotiated for multi-year terms. They may be negotiated on several points beyond the issue of pay, and might include additional terms. Since they are currently negotiated by different parties in different years and different economic conditions, it seems unlikely that the men's and women's agreements will be exactly the same, even under the best of circumstances.
The latest WNT CBA included significant increases in pay, maternity and marketing rights, and other benefits, but it did not include a specific statement equal pay with the men's team. It was reported in PasteMagazine.com that "There were some real structural issues that made it nearly impossible for the WNT to secure a pay structure equal to their male counterparts— namely that WNT players are US Soccer employees and MNT players are not."
The Public Statement From USNSTPA
On February 12th, the United States National Soccer Team Players Association (USNSTPA) issued a public statement on their Website that not only brought the WNT lawsuit back to top of mind for US Soccer stakeholders, but it further accused USSF of a long standing pattern of unfair treatment and attempts to change the public narrative around the issues. The statement walks the reader through 40 years of history and lots of conflict between individual players and the Federation. They made their statement after what they claim were 24 years of confidential dealings with USSF - all the more reason to take a closer look at why they would be saying what they are saying and why they're saying it now.
The statement alleges that the USSF is "...working hard to sell a false narrative to the public and even members of Congress."
By coming forward, "USNSTPA hopes to create a better understanding and perhaps bring about a resolution" to the grievances brought forward by the USWNT.
It claims that ""The US Soccer Federation, like all US National Governing Bodies for Olympic, Paralympic, or Pan American Games sports, has monopoly control over which athletes will be allowed to represent the United States."
It claims that "Historically, the Federation has used that monopoly power as a weapon against the players. For many years they refused to pay players at all. The Federation benefitted from ticket sales, sponsorship, and merchandising while paying players as little as possible. Even now, they use player names, photos, and footage to create implied endorsements by players of Federation sponsors and sponsor products the players do not use, while not paying the players."
It claims that "USMNT and USWNT players have always received less than fair compensation when playing for the National Teams."
It claims that "The Federation norm is forcing players to play under expired collective bargaining agreements, sometimes for over two years. Historically, the Federation has justified its unreasonable proposals by claiming its financial future was uncertain. The Federation still claims it cannot afford to pay the players a fair share of the Federation's revenue from selling the efforts of those players to fans, sponsors, and television."
It claims that "2011-2018 were spectacular years of financial growth and prosperity for the Federation. While USMNT player compensation went up 25% over those eight years, the Federation's revenues tripled."
USNSTPA says "Rather than share the massive surpluses the women helped generate with the players, they are using those funds to dramatically increase the Federation's annual legal fee budget to over $10 million to try to impose massive legal fees the women cannot afford. They're lobbying and using every legal trick in the book to try to distract Congress, the Judge, and the soon-to-be-empaneled jury.
The statement goes on to say that not only is the compensation structure for the WNT not keeping keeping pace with the amount of revenue the National teams are bringing in or the Federation's assets in reserve, but "...in 2017 the Federation insisted the women sign a 2017-2021 deal that was worse financially than the men's soon-to-expire 2011-2018 CBA that had been negotiated six years earlier."
Verifying this statement requires careful review of the structure of US Soccer, who is legally responsible for what, what structures (nonprofit and for profit) and systems influence the payment of men and women's teams, and of the published financials.
My Take Aways
It's no secret that both the men and women of US Soccer have argued through their associations that they should have higher pay. Certainly when compared to American football or soccer player compensation at the national level in countries like England, players may argue that compensation should be higher.
It's no secret that good negotiators use whatever is available to them, including similar agreements and precedent, to leverage their way into better negotiating positions. The cynic in me sees the release of this statement by the MNT association as a way to strengthen their negotiating position for their own CBA that is up for re-negotiation now.
It's also no secret that there have been tensions between players and USSF over compensation and other benefits for a long time. The players associations themselves are evidence enough for me that things have gotten bad enough to bring out the lawyers on both sides. At the 2020 USSF AGM, Mr Carlos Cordeiro, USSF's 32nd President stated "...unfortunately, we're also having to spend money, many millions of dollars, in legal expenses defending the Federation against various lawsuits." USNSTPA says that number is $10 Million.
Specific to this charge that USSF is "using those funds to dramatically increase the Federation's annual legal fee budget to over $10 million to try to impose massive legal fees the women cannot afford. They're lobbying and using every legal trick in the book to try to distract Congress, the Judge, and the soon-to-be-empaneled jury." I found in the USSF federal tax filings:
2016 expense for $3.327 M for legal and $0 for lobbying.
2017 expense for $3.285 M for legal and $0 for lobbying.
2018 expense for $1.521 M for legal and $0 for lobbying.
Maybe USNSTPA added these last three years together to show a total of $10 Million of legal expenses, but I could not find any documented evidence of lobbying activity. I wish USNSTPA had done a little better job showing us the supporting documents for these claims and maybe a little more specificity around the time frame and lobbying activity they are referring to.
USNSTPA says in their statement "Now, the Federation is taking the frivolous position that the USMNT players' compensation should also stay at those 2011-2018 numbers." This statement suggests to me that a Federation's attempt to keep the men's compensation at 2011-2018 levels is the straw that broke the proverbial camel's back for USNSTPA, and inspired them to release this statement. Players from both teams find themselves now unified by what they perceive as unfair treatment of both women and men players. By boosting pressure on USSF against the backdrop of a pending lawsuit already in process as filed by the WNT, men stand to benefit from a ruling in favor of higher pay for women.
Everything said, there is no denying that there are real issues of structure, pay, and other benefits inequality. I see no evidence that men and women have been treated fairly with respect to compensation. I found very clear evidence in tax USSF filings that the head men's National Team's coach made almost twice what Jill Ellis made as the head coach of the Women's National team.
I'm also not convinced that Comparing men's team compensation to women's team compensation is not as simple as agreeing to an hourly or per-game rate. At the 2020 AGM, Carlos Cordeiro, just 15 minutes into the meeting, said this:
"We take these lawsuits very seriously.... But we will continue to do everything we can to resolve these suits in the best interest of everyone involved. And that includes everyone across our Federation because we have to keep investing in players, coaches, and referees at all levels."
Reading between the lines and looking at the published audited financials for USSF, I believe the Federation is signally that they are trying to perform a balancing act. The needs of the National Teams in terms of compensation with the needs of other components of the USSF's mission - including promoting the game at all levels. As the President of a US Youth Soccer nonprofit affiliate, I don't see any money to help support kids in my community yet. I hope one day, the USSF (or whatever organization carries the torch for US Soccer in the years to come is successful enough to not only compensate our National Teams, but also to help grow the game for our deaf community, our handicapped community, our grassroots communities, and to help take the financial burden off our our member parents.
Resources
"Statement about the USWNT 2017-2021 CBA." US Soccer Players, 12 Feb. 2020, ussoccerplayers.com/2020/02/statement-about-the-uswnt-2017-2021-cba.html.
"USMNT Union Just Made USSF Look Really, Really Bad In USWNT Gender Discrimination Lawsuit." The18, the18.com/soccer-news/usmnt-union-ussf-uswnt-lawsuit.
"USWNT Files Gender Discrimination Lawsuit Against U.S. Soccer." The18, the18.com/soccer-news/uswnt-gender-equity-lawsuit-filed.
Das, Andrew. "U.S. Women's Soccer Team Sues U.S. Soccer for Gender Discrimination." The New York Times, The New York Times, 8 Mar. 2019, www.nytimes.com/2019/03/08/sports/womens-soccer-team-lawsuit-gender-discrimination.html.
Voytko, Lisette. "Megan Rapinoe Says She Was Told 'Women Do Not Deserve To Be Paid Equally' In USWNT Deposition." Forbes, Forbes Magazine, 21 Feb. 2020, www.forbes.com/sites/lisettevoytko/2020/02/21/megan-rapinoe-says-she-was-told-women-do-not-deserve-to-be-paid-equally-in-uswnt-deposition/#449ecef1340d.
"The United States National Soccer Team Players Association." US Soccer Players, ussoccerplayers.com/about-the-usnstpa/.
"USSF Financial Information." Home - U.S. Soccer, www.ussoccer.com/governance/financial-information.
"About US Soccer Players." US Soccer Players, ussoccerplayers.com/about-ussoccerplayers.
"National Women's Soccer League." Wikipedia, Wikimedia Foundation, 10 Feb. 2020, en.wikipedia.org/wiki/National_Women's_Soccer_League.
Gordon, James Bridget. "A Quick And Dirty Look At The New USWNT Collective Bargaining Agreement." Pastemagazine.com, 5 Apr. 2017, www.pastemagazine.com/articles/2017/04/a-quick-and-dirty-look-at-the-new-uswnt-collective.html.
"USSF Bylaws." Home - U.S. Soccer, www.ussoccer.com/governance/bylaws.
"r/Ussoccer - USMNT Defends USWNT in a Public Statement." Reddit, www.reddit.com/r/ussoccer/comments/f2u3c6/usmnt_defends_uswnt_in_a_public_statement/.
Kessell, Chris. "This Is AMAZING to See the #USMNT Stand up for the #USWNT and against the #USSF.We Need Change. We Need It Now. #ReformUSSF #ProRelForUSA Https://T.co/k4DSCxPzSz." Twitter, Twitter, 12 Feb. 2020, twitter.com/THEChrisKessell/status/1227635552603836417.
Invite others to Join our Community!