My first day of coaching started off, literally, in a lawn chair on the sidelines of my kid's soccer game. The coach's assistant, a dad of one of the kids on the field, couldn't make the game. The coach, another dad of one of the kids on the team, needed someone to keep the time. I didn't realize that one needed to keep time at a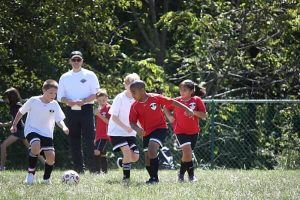 soccer game, but I agreed to help out. Besides, I thought it might be cool to be on the coach's side of the field with a stopwatch, and I figured… how hard could this be?
The answer to any question involving the word "should" really depends, as the Cheshire Cat from Alice in Wonderland so cleverly points out, on where we want to go. Where we want to go isn't limited to the World Cup. In fact, so few soccer players will end up playing in a World Cup, that it's hardly worth talking about.
We're not focused on college scholarships either. According to ScholarshipStats.com, the odds of playing sports in college in any division are 13:1. For Division I, odds drop to 87:1. The odds of going pro are 835:1!
So if we're not focused on the World Cup, college scholarships, or going pro, what are 450,000 boys and 388,000 girls playing High School sports for? Why are there over 3 Million youth soccer players in the United States?
The answer is bigger than scholarships or pro opportunities. It has to do with character development, skills development, and fun. Tell me what human being is more dedicated to Character and Fun for kids than a mother or father? The skills development piece can be outsourced or learned, but the rest of what a youth coach is primarily focused on comes along with the parent title. This makes moms and dads ideally suited for coaching in the youth soccer space – with the caveat that they invest some time to understand the coaching craft. Coaching isn't something that comes without study, and the old paradigms of what a coach was when the current generation of parents grew up has evolved.
---
Then we have the memory making benefits of coaching. Coaching provides powerful memory-making opportunities that last a lifetime.
I remembered my father being assistant coach for my little league team. I know now that he wasn't particularly good at baseball, but he was out there on the field with me, and even though I personally hated baseball, I enjoyed looking over and seeing my Dad out there with me. It made me feel good to know we were doing something together. He'll always be there in my memory – larger than life. Playing catch with him was about the only thing I liked about baseball – and it had nothing to do with the ball or the game.
Fast forward a few decades, and I'm watching my kids on the soccer field. From the coach's side!
I literally couldn't figure out how to make my cell phone countdown on a 7-minute timer, but I was coaching. My kids noticed that I was part of their world – right there in the trenches with them. Memories of my father were strong with me that day. I was giving that gift to my kids now. Pretty cool.
Last season, we launched our transition academy. This is a grouping of kids who are 7 and 8 years olds. They're transitioning from an academy style of play – where all the kids basically parallel play in a big group – to a more team structure. We introduce rules of the game, coaches, individual fields for games, scores, team Web sites… the whole nine.
Our Club is a not-for-profit, all-volunteer organization. We've paid a few coaches, but our fees are so affordable to the community that we can't afford to run the Club without volunteers.
I asked for four parents to raise their hands. Four dad hands went up. I asked them to stand in a special place. They would become our new coaches – at least for the day. Then I asked for four more hands raised. a few moms and a dad raised their hands. I set them up in a slightly different position. They would be our new timers.
I put all the kids in a row on a line, sorted them into four teams, matched kids with their parents, and explained to everyone what was next. We broke into four teams, put pinnies on the kids, set up our new timers as our newest generation of cuckoo clocks. We gave the coaches some basic instructions, and off we went.
Those parents rocked the field. The kids had a blast. The parents had fun. Parents on the sidelines could see parents on the coaches side doing a great job. The day went off without a hitch, and I smiled all the way home.
The parents that volunteered on that first day are leaders. They not only lead their cohort of soccer families through a great experience, but they sent a loud and clear signal to the kids, that they are in good hands, that they're surrounded by a good community who takes care of them, and that it's a fun thing to do – this youth sports thing. We all have fun! And we all support it.
Those parents went on – FASTER than any group that had come before them – to start picking up coaching credentials. These guys are serious. They're my kind of people!
---
Stay in the soccer community long enough and someone will use the term "Daddy-Ball." This is usually a professional coach who mistakenly believes that kids have a lower quality experience when Moms and Dad's take on the role of coach. This is false on so many levels that I won't be able to cover them all.
First, it should be said that a good coach doesn't need to be a soccer player. My skills at coaching are intermediate at best, but my kids love their team. They've matured exponentially over the years. And for those who are scoreboard watchers, we had several undefeated seasons. I'm proud of the memories we made, of the high fives, the team cheers, the ups and the downs, and the experience that the kids on my team had.
There are two different skills sets. There's a player skill set – at which I probably wouldn't do too well, and a coaching skill set – which is rooted in providing safety, organization, inspiration, and leadership. I've been into leadership my entire life. When I left the government in 2011 as a Supervisory GS-15, I had three divisions of employees. Developing my staffs to their fullest potential was the thing that brought me the greatest joy in my work.
Developing kids is unbelievably rewarding and fun!
"Coaches" who mess with their iPhone and answer email while they let kids run around in a backyard-style scrimmage every practice – probably shouldn't be coaching. But moms and dads who care about giving their kids the best possible experience – who aren't afraid to learn some new things – who enjoy helping people – these parents make AWESOME coaches.
Someone might be thinking: The U.S. is already behind the power curve when it comes to fielding world class soccer players. This year, the men's team didn't qualify for the World Cup. We can't afford to make more Daddy-Ball. To them, I say it's exactly the opposite. We can't afford NOT to play more Daddy-Ball.
---
Having moms and dads coach brings soccer into living rooms and around ice cream cones. It brings community to the game and the game to the community. I played rec soccer as a kid – as a way to cross train for other sports. The more I learn about the game, the more I appreciate why it's called the Beautiful Game around the world. The nuances, the flow, the shapes, the synergies between players… I love soccer now – but that's because I took the time to get to know it. If moms and dads are reduced to wallets and taxi drivers, what kind of conversations do you think are happening at home?
More Daddy Ball means more kids are playing and not paying huge fees. Lower fees and more access means creating on-ramps for kids from all backgrounds and interests. Swimmers, basketball players, baseball players, singers, and kids with huge talent and low income. Parents come off the couch and plug in. interest in professional soccer matches goes up. Knowledge and appreciation goes up. It's a win-win-win…
Credentialing helps – a lot. I'm a huge fan of coaching education. There's a saying in the coaching community that a river only rises to the level of the lake that feeds it. I believe that, and I believe that anyone who takes on a coaching role has a responsibility to acquire the skills necessary to continue if that what they want to do. But education is a natural part of every coach's journey.
If I can go from lawn chair on the sidelines to coaching kids all the way through to High School, I firmly believe any parent can do this. I believe the future of this sport depends on it.
Resources Referenced in this Episode
Invite others to Join our Community!