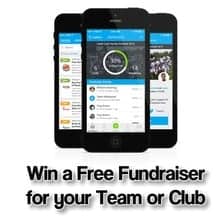 Fundraising means adding some super power into your program. Whether you're running a team, a club, a classroom, or a scouting organization, a little extra money will help you accomplish your mission faster and with more style.
This fundraiser will allow you to brand your own app, track your numbers via mobile app and/or Web dashboard, and keep 70% of the sales you make from annual subscriptions. At the same time, this will add value to your community by bringing your members together with local businesses, enjoying discounts to products and services your members use anyway, and give you the ability to reach extended family in the US. This system is GPS enabled and works anywhere in the United States.
Qualifying is Easy
All listeners of this show are automatically qualified to win a free setup of your own fundraiser on this platform. I will draw one winner at random each week and be prepared to help get you set up. Once you're set up, you'll have access to service that will help you use your fundraising tools, and you'll be invited to talk about your club or team on the show.
Whether you talk about your club or team on the show has no bearing on whether you win a free setup or not.
I reserve the right to work with and setup (or not setup) any group I wish. For example, I am not required to work with any organization that I don't like or provides the opposite of what we stand for on this show. We want to empower those who are most committed to character, development, and fun - and those who share our passion for keeping the focus in youth sports on the stuff that really matters.
Simply fill out the form on this page, tell me how to get a hold of you, and you'll be entered to win.
Entrants must be authorized to act on behalf of their organizations and are responsible for managing all local club, regional, state, and federal regulations pertaining to fundraisers.
Here is a copy of the episode where I go into more detail about this fundraiser.