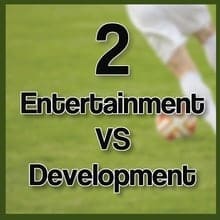 Culture affects everything about the youth sports experience. In this episode, we will explore the two primary cultures found in youth sports: the Entertainment Culture and the Development Culture. Which one you chose or create depends on the outcomes you want.
In an Entertainment culture, attention centers around the game. Practices are preparation for games. Games entertain the sidelines an establish team track records. A good day = a win. A bad day = a loss. After game speeches are often centered around X's and O's – what went right and what went wrong.
In a development culture, attention centers around the youth. Practices and games create thousands of teachable moments that we the system makes best effort to capitalize on. Mistakes are celebrated as stepping stones to growth. A win = physical, mental, emotional and/or core character growth. After game speeches are often centered around Johnie and Joe's – what we learned today across the spectrum.
We've got some great episodes coming up that are going to dive deeper into the subject of culture, college scholarship opportunities, what to look for on the pitch, from coaches and Clubs, at home, and specific things we can do to make sure that anyone who looks at us knows that we're just a little bit different. We do well. We play hard. We work hard. And we place emphasis on the stuff that matters.
Resources Mentioned in this Episode
Youth Sports as a Development Zone by Jim Thompson: https://youtu.be/cHSbb_w2V-E
Tedx Talks: Changing the game in youth sports by John O'Sullivan: https://youtu.be/VXw0XGOVQvw
The One Minute Manager by Ken Blanchard "Catch them doing something right."
Invite others to Join our Community!