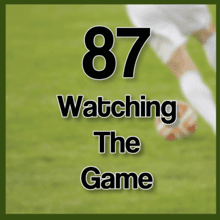 Imagine yourself sitting at a table. You're at a nice cafe in Paris. You're drinking a cup of fresh brewed coffee, eating your favorite breakfast and watching people walk by. People watching can be fun. We all do it. All the different sizes, shapes, colors, personalities, voices... it's not a half bad way to spend a morning in Paris.
Imagine someone you know walks by. You know their family, their dog, what they do for a living, their sense of humor. You know a lot about this person. You think they're funny. They have a signature move you've seen a hundred times. The whole feeling of the scene changes, right? You expect something. Maybe you rooting for their success and want to hear what brought them to the city of love.
You just transitioned from passively watching a sea of people to jumping emotionally into that sea. You're invested now. There is a story here. Watching a soccer game is similar. You can be a passive spectator, or you can get so much more out of it. Today, I'm going to help you get more out of the game. I'm definitely going to help you appreciate this latest Women's World Cup. Let's talk about it.
Watching the Women's World Cup 2019
I have to give a shout out to Volkswagon this year for sponsoring a series called "One Nation. One Team. 23 Stories." You can find this series on Youtube spread all over with other "related videos" sprinkled in between, or you can just go to this week's episode of The Soccer Sidelines and find them all stacked neatly together in my show notes. Yes... I did that for you, and I hope you appreciate the effort.
If I'm being honest, I really enjoyed the process. It took me some time, but each video in the 23 video series features a personal interview with each player that runs right about 3 minutes long. What that means is that in a little more than an hour, you can get to know the personal back stories and see the individual personalities of each of these World Class Women soccer players. The interviews are low key. The give the feeling of being up close and personal with each player. And I guarantee that you'll see the Women's National Team in a whole new light when you're done.
I started collecting these videos for you before the game against Sweden, then I watched the Sweden game and found myself rooting for our women in a way similar to the way I've only rooted for the youth teams I've coached.
I wanted Rose Lavelle to do well and I felt inspired myself knowing that she was inspired by her youth coach.
I wanted Crystal Dunn to believe in herself as a player and have the world show her how much she means to the game.
I wanted Ali Krieger to love and enjoy her comeback story.
I imagined Tierna Davidson dreaming about being an astronaut and wondering how she must feel now playing soccer on the world stage.
If you're a coach, you know what I'm about to say. When you know the personal stories of each of the players in front of you, you're watching a lot more than the score board during a game. You're rooting for the people and their personal stories. You want each one of those players to be successful and you realize that success means something just a little different for each one.
The games I watched in the lead up to the Women's World Cup made me literally stand up - I couldn't sit down. When Kelley O'Hara got hurt in what I assume was a concussion on Sunday, I felt like I should be running out onto the field and picking her up - as I've done so many times with my own players. It is gut wrenching to know that a player you know as more than a jersey number got hurt.
What I'm trying to say is this: whether you're watching a youth soccer match or a professional game, the more you know the players as people, the more likely you are to:
respect the game and the empathize with the people playing it (that goes for referees too!)
walk away from each game with more than a scoreboard win or loss
enjoy a much deeper personal emotional ride with every touch in a game
Getting To Know Professional Players
The sad reality is, most of us will never really get to meet or know professional athletes in our real lives. We watch athletes and celebrities on TV. Maybe we catch a live game. But the men and women playing the sport are busy. Games and practices are the way they make a living. If Alex Morgan had lunch with every person who calls themselves a fan of hers, she'd either be fat or dead and still not get all those lunches in. We have to get to know our favorite athletes and celebrities by reading or watching interviews. In the case of athletes, we can also get to know them through their stats. More on that in a minute.
The good news is, the internet provides us plenty of opportunity. Go to YoutTube and search for Tobin Heath and you can spend hours getting to know her. There is so much out there. Do it. I'm serious. I think you'll find her introspective, selfless, competitive, good natured, and gracious. She's not just #17 when you hear her story.
Who are your favorite players? Who are your kid's favorite players? Spend some time getting to know them online. They have personalities, insecurities, strengths and weaknesses. What a great way to have a conversation that can quickly get meaningful when you hear a professional player - arguably one of the best players in the world - say that they struggled, suffered setbacks, and kept on going. Here's news to some kids: professional athletes have failed a lot. They dropped a lot of balls. They suffered and came back from character lapses and personal tragedies. How much more meaningful would it be to have a conversation about that with your kids than it would be to talk about the score in passing or pretend that these people are any different from kids growing up today.
Look at player stats. In the case of soccer players, what goes into giving them their match score after each game. Passing completions, tackles, passing accuracy, clearances, long balls... it all matters!! These are developmental goals for the youth player that still count in the professional leagues. As a coach, I'm looking for these elements more so than I am looking at how many balls go in the net.
If you can develop an eye for what really matters to soccer players from an individual perspective, your appreciation of the game goes up exponentially. If your player develops an appreciation for these developmental goals, their focus changes from trying to be the one who always shoots the ball to maybe improving their passing accuracy or getting better at tackles! The Women's World Cup would not have been won this year without Becky Sauerbrunn's 41 successful passes, 6 ball recoveries, and 5 clearances. It would have been a different game without Samantha Mewis 9 duals won, 4 tackles, 10 ball recoveries, and 2 clearances.
These things matter in the game. And when we know how much they matter or we have a bar to measure our own performance against, then the focus comes back to to the things that really matter in the youth game - developing the fundamentals.
Imagine if parents jumped around for joy when a left full back on the field won 5 out of 5 tackles. That's huge! That's a game performance worth celebrating!
Get to know the stats of your favorite or your child's favorite players and start talking about them. That's a second more interesting discussion that you can have with your child than which youth team won or lost a game. Coaches know what I'm talking about.
A Tool For Getting To Know Professional Players
I had trouble not watching the Women's World Cup on Sunday. The problem for me was that registration is open for my Club for the Fall season. I had hopes that a new company was going to bring us into the monthly membership game, but they're not getting the job done. That means I'm rebuilding our payment processing system while registrations are going on. It's like changing a tire while a car is moving down the road.
My son turned me on to this app called FotMob, spelled F-O-T-M-O-B a year or two ago. Up until today, I used it to track scores and standings for teams I am interested in. FotMob wrks great for that, but for me scores and standings aren't that important. I know... heresy. I'm much more interested in the systems of play, the players, the strategies and the action.
This is where things got interesting. Now I'm not getting a commission or in any way benefitting from endorsing this app and Website, but they are just great tools! Poke around just a little bit inside of FotMob, and you'll find the game day lineup. You can drill down to each player and get their stats. They even have a "Live Ticker" element that features a tool they call "SuperLive." SuperLive shows an empty pitch with an image of the ball. That ball moves in real time around that little model pitch as the players from the real team are playing the game. It's wild to see the ball moving left, then right, then left again as the Women's National Team attempt to penetrate a well defended Netherlands Defense.
As a coach, I was mesmerized. I wanted my team to be watching this. I wanted them to see what World-Class soccer players are doing with the ball, how the patterns and shapes emerge, and what the team's strategy seems to be.
If you get the chance to pick up FotMob for yourself or to give it to a soccer player you know, this will make your life a better experience. Yup... it's that good. Just get it.
Summary
Speaking of this episode, if you like what we're doing here - trying to move the focus of youth sports back onto the things that really matter, then please consider supporting the show. My Patreon site is waiting for some new Patrons. There's a new video of the FotMob app out there and how I was using it this past weekend, and your support is not only welcome and appreciated, but it will get increasingly rewarding as i get the hang of this and push more Patron-only content out to you there.
Resources
"The Pulse of Football." FotMob, www.fotmob.com/.
See below for all 23 interviews with our 2019 Women's World Cup Champions
The US Women's World Cup 2019 Champions - Up Close
When you know the back stories of these women, you see the game in a whole new way. Enjoy spending some time with our Women's National Team World Cup Champions 2019.
Invite others to Join our Community!