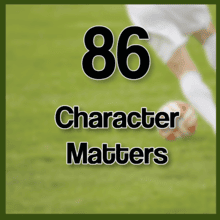 By: David Dejewski
A youth athlete without character is like a sports car without a steering wheel. Coaches know that character matters when selecting youth athletes. Last week, we ran an ID camp in Maryland where character made the difference. If you have a youth athlete who's trying to get noticed, be sure that it's not just their physical skills that get seen. Often when two athletes are similar in size, skill, and physicality, it's the one with the best character that bubbles to the top.
In this episode, I'll share several examples of character that matters that we saw in camp and how it impacted the selection process.
The Backdrop: ID Camp
ID Camps happen all over the country - multiple countries, in fact. I don't want to leave out my international readers! ID camps are basically a recruiting activity where kids come from all over, coaches train them and/or run them through a series of activities designed to showcase the talent that came to camp, and end in a selection process - often to give kids a chance to move on to other camps or possibly to be considered for play at a college or university.
The camp that we just hosted through the Damascus Soccer Club in Maryland, is coached by Stoke City Potters Academy coaches in England and facilitated by Global Image Sports from Atlanta, Georgia. About 23 kids from Alexandria, VA to Frederick Maryland took advantage of this camp, trained for three days, and competed for the 20% of invitations available to attend the National Camp in Georgia later this year.
These young players brought with them a lot of talent and was fun to explore and we knew very early that several of them would do well at National Camp if given the chance. These three days were dedicated to which of these players would be given the invitation. A decision like this is not easy.
Factors That Lead To a Decision
Generally, players are evaluated for their physicality and physical abilities, their technical ability, their mental ability to understand and process the game, and their psycho-social ability. When players all weigh in around the same level for these four qualities, we need a tie breaker. This is what inspired today's episode. Character matters. Let's talk about how character becomes the tie breaker.
Character Tie Breakers
Take two players of equal size and abilities. One hands another a water jug when it's hot. The other shields his water from team mates when someone runs out. Who are you going to choose? The answer is pretty obvious when seen from that perspective, right? The one who shares might just be a better team mate. It bears watching.
Next, take two players of equal size and abilities. One slows down and start walking half-way through the practice session. The other pushes hard all the way until the end. Who are you going to choose? In this case, the player who wants it more is likely to have a stronger work ethic. As a coach, you know this is going to be needed later in training when things get considerably harder.
Consider two players of unequal size and ability. Player A has a better touch on the ball than player B. Both need improvement (as we all do). Player A sees you offering constructive feedback and ignores it. Player B not only absorbs the feedback in the practice session, but you learn that this player went home later that evening and worked some more on the things you suggested they work on. Player A still has a better touch on that ball for the session the next day, but you see improvement in Player B. Who do you choose? Player B is trending up and is clearly coachable. Player A is not listening. As a coach, I choose Player B every day.
Bring Character To Light
You can't fake character for very long. Tired and beaten, character is harder to hide. Everyone in camp is going to be tired and beaten by the end of camp or the coach isn't doing a great job pushing players.
Shy players tend to be harder to read until their personalities can come out. It's important for coaches to do everything possible to allow for player characters to shine, and to pay attention to the little things. Here are four examples of character that came out in ID Camp this past week. Each of these examples made it into post-camp discussions about who should go to Georgia and who wont get an invite. I'm pulling back the curtain here and really giving you some specific insight into this character matters effect, so I hope you're getting this:
Make Your Character Matter
In every camp there are the obvious stand outs. These are the players everyone in the group knows will be selected. They are good team players. It's obvious they've done the work between practices and games at home. They have developed their skills and clearly love what they are doing. There are often those players that are talented physically, but have big chips on their shoulders. Those players attitudes will certainly make it into the final selection discussions. How do you think those discussion go? Does their attitude help or hurt?
But once we get past the obvious stand outs and the chipped shoulders with big head, we have a group of talented players left who we might call "bubble" players. These are players that all have what it takes to go to the next level, but coaches have to choose. In this camp last week, we had a lot of bubble players. The challenge is always who do you then invite and who comes back again next time for a new chance.
In these cases, character matters. Character that stands out for better or for worse can weigh heavily on the coach's decision. It's at times like this when huddles around the water cooler, how we enter and leave the pitch, and what we do for others matter. Character is often what separates those who go on to the highest levels of the game and those who don't - all other things being equal.
Sports not only build better athletes, but also better people"
Julie

Foudy

-

Olympic Gold Medalist, ESPN/ABC Broadcaster
Invite others to Join our Community!