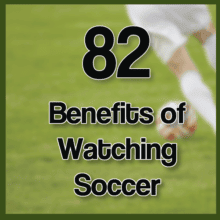 How eager would you be to allow a surgeon to cut you open and remove your gallbladder if that surgeon never watched a surgery before? Not very, right? You instinctively know that performing a physical skill is easier if you've watched someone else do it first.
Likewise, if you want to learn to play music, it helps to listen to music. Most athletic skills are the same way. These skills are not life or death like in the surgery example, but the principles are the same.
There are benefits of watching soccer, from watching pro games on TV to watching games in person. There are benefits from watching soccer in person that you can't get from watching the game on TV. In this post, I'll share a few personal stories of games that happened these last two weeks and share what the experts say about the simple act of watching games.
The Inspiration Behind This Episode
My wife volunteered as field marshal for a tournament here in the Mid-Atlantic area this past weekend. This was her first time doing this. She was a little intimidated going out the door that morning, but when she came home, the one thing she wanted to talk about the most was the quality of play she saw on the field. The two teams she watched came down from Massachusetts and New Jersey for the 40th annual Potomac Memorial Tournament right here in my back yard at the Germantown Maryland Soccerplex Complex.
She was impressed by the level of play of these two teams. She had never seen such passing, such ability to hold their shape, such possession, teamwork and skill. She talked about it for several days and told my son and I that we would have loved to watch those games. She's right. I know the value of watching games and by the end of this episode, you will too!
When I started learning how to be a youth soccer coach, I did what I had always done in the business world and in life. I sought out people who had been doing the thing that I wanted to do - and learned from them. I talked with anyone who would talk with me. I met with coaches who were willing to show me the secrets of coaching young soccer players. I visited my local soccerplex and watched dozens of youth games. I attended every practice for other teams my kids played on with a notebook in hand and took notes and drew diagrams. I took courses, read books, and watched professional soccer on TV. I immersed myself, found coaches and styles I liked, focused the questions I sought answers for in books, then returned to the field to test my new working theories.
I don't expect you to embrace the same level of game analysis that I do, but like my wife, who's never played soccer in her life, the benefits of watching soccer - in this case a good game - moved the bar in her mind. She now knows what good quality soccer looks like and she understands more why it's called "the beautiful game."
I want you to enjoy this sport as much as my players do. I want you to have the same "ah-ha" moment my wife did as field marshal this last weekend. If you haven't already had that moment, I have good news. It's probably closer than you think.
What Are the Benefits of Watching Soccer?
One of the benefits of watching soccer is that it gives you a base vocabulary to draw from. Just being around the game, you'll come to know the touchline, the 18, the penalty area, the corner, the timing, the difference between a touchline and a goal line. If you pay attention, you'll get sight pictures of an inside-of-the-foot pass versus an outside-of-the-foot pass. You might understand why, at practice, your coach is playing games with the kids that emphasizes inside-of-the-foot, outside-of-the-foot, and laces. You will notice the difference between a legal shoulder vs a foul from behind. You'll start to see things that you never knew were there and maybe start to see the value in the age-appropriate training that coaches are trying to promote.
Next in our lineup of benefits of watching soccer, you pick up things that allow you to have meaningful conversations with your players. You might notice how speed on the wings affects the run of play. You might notice holes opening up in the mid-field when the forwards mount an attack and the defenders watch from the back. You might see something cool that someone did in a game that you've seen your son or daughter do and be able to connect the dots between position responsibilities. When you're watching without a vested interest int he outcome, you might realize how silly so much of the sideline commentary is. It might change the way you watch a game yourself.
Watching games on TV gives us a model to emulate. Field positioning, tactics, technique, set plays, formations... Seeing what other teams and players are doing gives us ideas and a level of competence to strive for.
Watching games in person gives us a wider view and just immerses you in the game. We're not limited to the screen we're watching the game on. Being there in person opens up a LOT of the game we otherwise miss on TV. As a coach, I find myself watching players who do not have the ball as much or more than I watch the players who have the ball. At a live game you can see the whole field. You're sitting so close to the action at youth soccer games that you're able to hear the talking between players. You can see the small hand gestures and movements that players off the ball are making to help open space or direct the run of play. You can see how a player moves to pull a defender out of position or how a second and third defender provide cover and balance on the field. It's remarkable how much you can see of a game when you go to the sidelines of a youth soccer game and watch.
In the youth game you can also experience how rules are applied. You can see how the referees manage safety of younger players by awarding an indirect kick for headers under the age of 12. You can see how the players evolve as the energy waxes and wanes. You can even see the holes in the field made by ball watchers - something we hope to never see in the pro-game on TV.
High School aged games offer an easter egg hunt for talent and flashes of insight. If you watch enough high school games, you're bound to see great moments where everything just comes together for a player, an attack, or a well-coordinated defense. The inconsistency is part of the fun. You never know when something great is going to happen as these players put the basics together from the last 10-15 years and a new soccer player emerges.
Experts on the Benefits of Watching Soccer
They provide a nice five (5) point guide for what to look for when watching a game. I encourage you to follow the links from my show notes to their site to read the list in more detail, but for convenience, I'll just give you what their top five recommended things to watch for are:
In possession or when the ball is on the other side of the field
What are players doing when they switch the play from one side of the field to the other
What happens when the team is transitioning from attack to defense or defense to attack
What happens after the pass
Player specific actions
Dr. Renee Clauselle, psychologist and Founder of Child and Family Psychology is quoted in the Green Bay Gazette as saying "Bonding over sports — the highs and lows of the game — strengthens ties, helps us feel supported, and makes it easier for you to open up about personal things."
You're Part of the Positive Now
I don't want to toot your horn too loud, but if I don't, who will? As a listener of this show and reader of my Blog, you're an educated and positive observer of the game. Don't underestimate the power of the positive energy that you bring to the sidelines. You're not yelling instructions at the players. You're giving them space and a chance to make mistakes. And you're noticing both the little things and the big things that really matter in youth sports. You're making the game more enjoyable for everyone - players, coaches, referees, and other sideline parents.
If you keep doing what you're doing, there's a good chance that watching the game in-person will be an even bigger part of our future.
​

Resources
"Watching Soccer for Youth Players." Colorado Rapids Youth Soccer Club, 30 Jan. 2017, rapidsyouthsoccer.org/watching-soccer/.
"Benefits of Watching Soccer for Technical & Tactical Improvement • NLSA." NLSA, 18 Feb. 2019, www.nlsasoccer.com/benefits-of-watching-soccer-for-technical-tactical-improvement/.
Gosse, Bill. "Watching Team Sports Provides Many Benefits." Press Gazette Media, Wisconsin, 4 Oct. 2014, www.greenbaypressgazette.com/story/sports/2014/10/04/watching-team-sports-provides-many-benefits/16730371/.
Walker, Mike, and Mike Walker. "Watching-and Learning From-High School Soccer." Medium, Medium, 20 Dec. 2016, medium.com/@mikewalker_1678/watching-and-learning-from-high-school-soccer-834650870e65.
Cahute, Larissa. "Soccer Academy: Young Players Need to Watch the Pros to Improve Their Game." Www.theprovince.com, www.theprovince.com/sports/soccer academy young players need watch pros improve their game/9716323/story.html.
"Potomac Memorial Tournament." 40th Annual 2019 Potomac Memorial Tournament, potomacmemorial.gotsport.com/clubsite/?p=18728.
Maryland SoccerPlex, www.mdsoccerplex.org/tournaments/soccer.
Invite others to Join our Community!