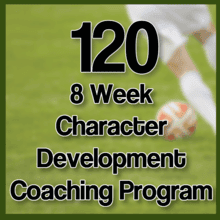 If our goal is to deliberately expose our kids to Character Development coaching this season, then we need an actual plan. We can't leave it to chance that our kids are going to understand the hidden life lessons youth sports teaches. Teamwork, work ethic, perseverance, sportsmanship... these are all multi-syllable words to kids without concrete examples.
In this post, I'm going to walk trough an actual 8-week character development coaching program that you can print out and put to work in your club in about a week. If you're not a coach, listen in because this isn't just about coaches. If you want your kids to understand the lessons and remember them, the lessons need to be called out and rewarded. This episode will give you more to celebrate than a scoreboard win. We will discuss the what, the when, and the how of coaching Character Development in a standard single season of youth sports. Let's talk about it.
Getting Started
The program I've laid out in this session has a communication component, a fundraising component, a reward component, and a method for getting it done during an actual eight or ten-week season. For the big picture program overview, please see episode 119 titled Have-a-Ball Character Development Program. Episode 119 describes the 7 steps to follow to set a program like this up. I include some costs and budgets, communication, and source of funds recommendations.
In this episode, I'm fast-forwarding into an 8-week soccer season and lay out the pre-game, game day, and post game activities that coaches and parents can follow and support across your entire club in order to make this character development program work. I'm including a downloadable .pdf in the show notes for this episode, so you can have a tangible copy of the program, including recommended coaching questions and a section for reflection after each character lesson.
If you're worried that you already have your hands full with trying to teach the basics and you simply won't have time or bandwidth to be deliberate about coaching character development, then this is where I promise you the program is really simple. I'm using standard coaching methodology you should already be familiar with. The only thing you need to add are a few meaningful questions (I provide some concrete examples), a reward mechanism (like a custom game ball or a patch or a mention in your organization newsletter), and the discipline to follow through each week with what's laid out. If you can do these three things consistently, you will no longer have to guess about the lessons your players are learning. You'll know exactly what you're doing and when.
The Character Development Coaching Program On One Page
We have to keep it simple. One page is all you need to understand the full 8 weeks of a program like this. Most of what we'll be doing is stuff that's already happening every day - most of the time without being recognized. All we need to do to be intentional about Character Development, is to drop some key questions as seeds, keep our eye out for emerging behaviors, and reward them. Whether you chose to use a custom ball as I did in Have-a-Ball, you give out patches, or you simply recognize players in a public way, the important part is that you make Character Development a deliberate part of your youth sports experience.
You can download a copy of my one-page 8-week Character Development Program by simply telling me which email to send it to. Simply tell me where to send it.
The Weeks
I've divided the season up into 8 weeks - each with their own Character theme:
Work Ethic
Teamwork
Accountability
Sportsmanship
Respect
Empathy
Courage
Perseverance
Each of these character themes have a definition, weekly pre-game activities to incorporate into practices, pre-game (practice day) sample questions, Game day activities, and a place for your own comments and reflection. When you see the one page document, you'll know everything you need to know to put this into practice (assuming you performed the 7 steps I laid out for you in Episode 119.
The Method
The Character Development Coaching Program method is built around what coaches are already doing. Coaches already use guided discovery. We already ask key questions and use key phases. We already do self reflection after each session. All we're doing here is being explicit about what we're doing, standardizing what we're doing (in the case of a club full of teams, and using our framework to communicate with and partner with parents to help commit these life lessons at home and in the car.
Get Started!
If you have questions or would like to schedule some time with me to talk about this program with you and/or your team, reach out via the connect tab above. I'd be happy to help!
Invite others to Join our Community!