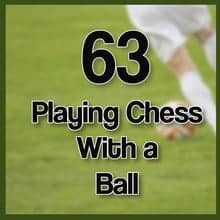 There is so much more to watching a soccer game than watching the player with the ball. Come along with me as we explore some of the history, the formations, the styles, and the 99% of the game that is played without the ball. Come away with a better sense of the game and how you can appreciate watching your kids play the biggest sport in the world.
Chances Are You're Missing Out
Soccer is much more than kicking a ball. It's about shapes, coordinated movement, positions on the field, timing, cultures and history. In this episode, I take you on a high level walk through history, the role that culture plays, into formations or "system's of play," and how we might either assemble a strategy or appreciate a strategy when we see one.
The resources included in this episode make good reads. Technical and historical accounts of the game will help you to appreciate the world you step into when you play or watch the game of soccer.
Resources
Link, Daniel, and Martin Hoernig. "Individual Ball Possession in Soccer." PLOS ONE, Public Library of Science, journals.plos.org/plosone/article?id=10.1371/journal.pone.0179953.
Wilson, Jonathan. Inverting the Pyramid: the History of Football Tactics. Orion Books, 2018.
Invite others to Join our Community!