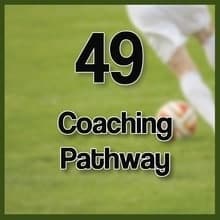 The Adventure of Coaching
I think most parents come into the world of coaching out of a love for their own kids and a desire to support them and provide well rounded learning experiences wrapped in fun. If we consider the world of grassroots soccer, by that I mean non competitive travel or select soccer, we see kids coming together from all backgrounds and skill sets - all out to make friends, become and stay active, learn some new skills, and have fun. Fun is the number one draw for kids into youth sports, and fun is what a lot of parents hope to provide.
In this post, I'd like to talk about some of the stuff that's not talked about in coaching courses.I want to talk about the stuff we think about before we ever get to coaching courses.
I want to talk about you and the stuff that can't be easily quantified. Before you step up for the first time, you might want to know: would I make a good coach? What's the time requirement? What if I fail and the kids don't like me? What if I don't know anything about the game? Will my kids accept me? How can I be a good coach?
Would I Make a Good Coach?
Obviously, this is very personal question. If you've never coached before, you probably don't know the answer. I came from a military background. There were not many kids in that environment. And I didn't start with the military until I was a bit older. 24 yrs old to be exact. I was the old man in training. Before that, I was in college with other college kids. I had my own business and I was making a lot of money for my age. I was having life experiences that were far removed from children and I was perfectly happy there.
After the military, I went to work in corporate America. I climbed the ladder through middle management and into the C-Suite. I managed hundreds of employees, millions of dollars worth of projects, and had made all the kinds of transitions outlined so well in the book: The Leadership Pipeline: How to Build the Leadership Powered Company, by Ram Charan and Stephen Drotter.
I was leader in those environments - but those environments were for adults. Kids to me were scary. I had no experience. I didn't have any great examples to draw from. And I thought I'd be really bad at dealing with them.
When I had my own kids, I didn't have any choice anymore. Kids are kinda everywhere when you're a parent. You definitely can't avoid them - or all the bugs they bring home from daycare and school. Sickness on school cycles year after year was par for the course. Coaching kids when mine were really little was about the farthest thing from my mind. I was happy to get in a nap every so once in a while.
When my kids expressed an interest in trying youth sports, I was a big fan. I swam, played hockey, lacrosse, soccer, ran track, wrestled, did gymnastics and martial arts in college... My memories of youth sports - working together as a team, pushing past weakness and discomfort, or even just putting one arm in front of the other for 4-8,000 yards twice per day every day with nothing but bubbles from another swimmer's kicking feet in front of me - those things, the perseverance, the teamwork, the sense of achievement after working hard - those things got me through many rough spots in life. I wanted that for my kids.
When my kid's coach needed help, and I saw that the experience my kids were having would be better if I stepped up. I stepped up. I picked up the stop watch, tracked time, donned a title "Assistant Coach," and eventually managed the bench. In the early days, I struggled to remember my own experiences as a player - as if my experiences as a player would help me now as a coach.
But I realized after a while, that playing and coaching are two very different things. Coaching requires organization. I had learned organization. Coaching requires good communication. I had learned communication. Coaching requires empathy and insight. I had learned empathy and insight. And Coaching required that I set aside my own ego, climb into the player's shoes and made a genuine human connection - interestedly enough - the same things a good leader in the world of adults has to do.
Everyone comes to coaching from different backgrounds. My gift to you is this: Don't underestimate the value of the things you learned in life along the way. You will be tested in really good ways. You'll be asked to draw from your life experience and to give a part of yourself to kids who look just like you did when you were their age. Imagine what you could accomplish if you visited a younger version of yourself and shared what you've learned in life with them.
Don't worry about the X's and O's about playing soccer (if you don't know anything about the game) - at least not early on. All that stuff can be taught. If you have something to offer and you're willing to give, then chances are you could make a good coach.
Once you're on the path to becoming a coach, education is your friend. It'll help you become more comfortable with the role. It'll expose you to other coaches who have been there and done that - and are willing to help you learn the ropes. It'll give you a nice file cabinet of resources you can draw from. And it'll help you scope everything you do to the right age. And because you will understand how to be age appropriate you're kids will have more fun.
There is a lot out there in terms of coaching education. Various certification and licensing bodies from USSF, United Soccer Coaches (USC), Coerver, UEFA and ISTA - all of them offer methods, session plans, and ways to approach the craft of coaching. I'll list some of these in the resources section for you to explore yourself, but I don't plan to cover each one in this post.
Our Club falls under US Youth Soccer. US Youth Soccer is a national organization that sets the tone for all member clubs. They have an excellent training pathway. It starts with what they call "Grassroots" and covers everything from fundamentals - which is like a 20 minute free online course - to how to structure practice sessions and interact with players. USSF licensing courses level you up through the various grassroots games and into the Pros.
You and/or your Club will come out of pocket to give you a toolbox and confidence. Not getting any formal education in coaching is in my opinion, not smart.
Being a former player makes no difference - just in case you're coming from a background in soccer and into coaching thinking you're a master. In fact, it's pretty common knowledge that former players can be some of the worst coaches. It takes them a while to realize that coaching isn't about playing. It's about connecting, communicating, keeping kids safe, bringing parents along, and caring enough to improve your coaching skills.
It makes no difference to me whether someone is coaching backyard soccer or taking a team to the state championship. Education is something that everyone wins from. Don't put it off. Get enrolled in your first courses online and see what I'm talking about.
Good Coach vs. Bad Coach
Being a good coach or a bad coach really come down to forward momentum. Everyone starts in different places along the coaching skills spectrum. Nobody ever arrives to become the "perfect" coach. Coaching requires continual improvement - just as being an athlete does. The more you exercise your abilities, the better / stronger you will become, but there will always be someone better out there. Continual learning - and being open to continual learning is a key characteristic.
Listen, as President of a soccer club, I see a lot of coaches and coaching styles. I try to meet each coach where they are and give them a little nudge in the right direction. I often find that the very same coach I am nudging nudges me right back. When coaches come together, we exchange ideas and best practices. We make each other better in a healthy environment.
In cases where a coach either stops learning or thinks they know all they need to know about coaching, that's when I get concerned. Coachable coaches can be great. Know-it-all coaches get themselves into trouble.
What Is the Time Requirement?
The time requirement is whatever you need it to be. I can share with you what my time requirement is and how it's evolved over the years, but how many hours you give depends on how many practices and games you provide, how much time you put into preparation and administration, and how much you invest in your education.
For me, education helps cut down on the time requirement over the long haul. The more training you take, the more resources you're exposed to and the easier it becomes for you to get and stay organized. Education itself is an investment, for sure, but it pays huge dividends down the road. A typical Grassroots starter pack of training from USSF will cost you 20 minutes for Fundamentals of Coaching, and maybe two hours per course x however many courses you decide to take for the online stuff. Expect to spend half a day or so onsite with other coaches when you take the in-person training.
My typical coaching time investment looks like the table below. I'm coaching a high school 17U team, giving them 2 practice sessions per week, one game per week, for 8 weeks, and have one assistant coach (you can only see this table on desktop computers and tablets):
| Task | Description | Time |
| --- | --- | --- |
| | Roughing out an overall plan | |
| | | 1 hour per session x 2 session per week = 2 hrs |
| | Actually conducting practice | 90 minutes per session x 2 per week = 3 hrs |
| | Recording things like attendance, a notes about players | 30 minutes per session x 2 per week - 1 hr |
| | Documenting starting lineup | |
| | | |
| Training my Assistant Coach | Meeting with my assistant and training | |
| Communicating with parents | Emails and/or text messages | |
| | | |
| | At least one more course between each season | |
| | | ~ 92 and 110 hours per season per team |
Your mileage will vary depending on whether or not you have an assistant coach, how many teams you coach, how proficient you are with planning, how much planning you do, how much education you have, etc. Obviously, every coach will have a different number here. Even the same coach will have different numbers from season to season. These are estimates only.
Planning Out a Season (video)
How Can I Be a Good Coach?
Be open to new experiences. Lead with a genuine interest in helping develop your players both on and off the pitch. And don't ever get lulled into believing you've got it all licked. There is always something more to learn and always a new group of kids who will challenge you to be at your best.
Other Benefits
I don't believe coaching ends on a soccer field. Understanding how to communicate with kids, with parents, and colleagues in an environment like youth sports translates extremely well into life as a parent, as an employee, and as an employer. There is zero question in my mind that I am better at all of the above because of my experience with coaching, and I am willing to bet the same will be true for you.
Resources
"The Current State of Youth Soccer in America." EVERYBODY SOCCER, www.everybodysoccer.com/even-the-goalkeepers-like-to/2017/10/16/the-current-state-of-youth-soccer-in-america.
Digital Coaching Center - U.S. Soccer, dcc.ussoccer.com/.
Admin. "Welcome to ISTA." International Soccer Training Academy, International Soccer Training Academy, 2 Jan. 2015, www.intersta.com/.
"National Activities Month Spotlights Benefits of High School Activi..." Football, www.nfhs.org/.
Advanced Solutions International, Inc. "Home." DI MEN, unitedsoccercoaches.org/.
Invite others to Join our Community!