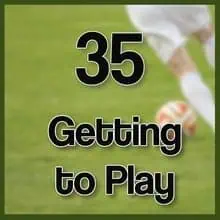 "Necessity is the Mother of Invention."
Playing Soccer Can Cost Money and Time
While "the Beautiful Game" can be played with just a ball, a flat surface, and bare feet; in the US, we tend to throw in paid coaches, paid referees, field fees, travel fees, uniform fees, and we need to pay someone to organize all of this stuff into leagues, publish schedules, etc - then we throw insurance on top of that, specialty trainers, athletic trainers, and in some areas - even golf carts to get VIP's from point A to point B.
There are also play-level steps to think about. A recreation program in my Club costs $135. Classic level of play costs between $250 and $350. And Travel programs typically cost between $1,500 and $4,000. These extra costs cover much more expensive fields, more expensive uniforms, more expensive coaches, tournaments, more expensive league fees, etc.
To some families, access to new play options, nicer fields, nicer uniforms, etc, can quickly become cost prohibitive. Kids in the US either cap out at a certain level of play or drop out all together as a result.
Those who stay on and pay more money quickly find out that travel means more time, travel fees, the cost of food and fuel on the road, and lost opportunity costs taken from other activities that they no longer have time for because they're traveling.
Taken all together, playing soccer can present a number of difficult challenges to overcome. Overcoming challenges is the focus of this episode.
Overcoming the Money Challenge
Money (or lack thereof) is a real challenge. For a family used to paying under $200 for a season to double that fee in the very next season can seem a bit much. To go from an under $200 recreation season to an over $2,000 travel season in one season - a 10x increase in fees - not including travel fees - can seem like a deal breaker!
It doesn't have to be a deal breaker. My Club has implemented several ways to help kids play. You're Club may have implemented some of these or more. It makes sense to look into it.
| Scholarship | Volunteer | Payment Plans | Fundraising |
| --- | --- | --- | --- |
| Scholarships are funds raised - usually through philanthropy - by Clubs and other organizations to support players who can not afford to play. In our club, these funds are collected during registration and/or drives, are earmarked for scholarships, and are given out to players with demonstrable need (eg - free and reduced meal plans at school, death in the family, etc) | Many clubs rely on volunteers to keep costs low and get everything done from registrations and uniform inventories, to marketing and Web design. If you have talents, good organization skills, or even a lot of passion, there is a good chance your club can find a place for you. It's worth looking into the idea of working off some or all of your club costs. Volunteering has the added benefit of helping you sleep at night and setting a good example for your community and the kids in your club. | Some clubs have set up payment plans. While a payment plan may cost you a little bit more in the end, making smaller payments over time can make it easier to digest a larger payment over time. | The opposite of reducing costs is increasing revenue. This is an equally valid way to create money you can use to help defray your personal costs. In some cases, it can be possible to negotiate a deal whereby you get a percentage of your fundraising efforts. I'm happy to pay our Club members a fee for selling our fundraiser apps. If your club doesn't have such a program, reach out to me by clicking the button below that says "Please Make Me a Fundraiser" and we might be able to set something up together where you can sell fundraising apps for your own Club or for The Soccer Sidelines. This option is only valid for US citizens |
---
Become a subscriber member of our community and have The Soccer Sidelines newsletter delivered directly to your inbox each week.
---
Overcoming Time and Transportation Challenges
Time and transportation are no less real a challenge than money. Families can be shocked by the fact that they can spend more time in the car than their kids do o the field Traveling just one hour to a practice or game means two hours (commuting time) sitting in a car. Driving two hours to get to a game means four hours of sitting in a car - and that number can be worse in traffic!
Tournaments can be all over the state or anywhere in the country. Camps can be several states away - making it necessary to either carve out several days from work or spend huge fees in airfare.
The time challenge doesn't have to be a deal breaker. There are alternatives that many families don't consider until faced with an out of State ID Camp or a tournament that crosses state lines. There are even alternatives to driving back and forth from practice just 30 minutes away, but on an inconvenient schedule that does not sync with work or other family commitments.
Ride Sharing

Take a Train or a Bus

Combine Trips

Fundraising

Ride sharing or car pooling is a huge relief for families. Everyone is in the same boat: busy schedules, family and work obligations, limited resources.

Even if your the type of parent (like me) who likes to be at every event our kids participate in, sometimes, this just is not possible.

Finding someone else who travels the same route or comes from the same area that you do can pay huge dividends over time. Work the sidelines (and mention this podcast while you do!).

The train may seem old fashioned to some, but this can be a spacious and very relaxing way to travel. Not to mention the fact that it can be cheaper than flying. You can sleep on a train, walk around on a train, use a bathroom on a train, meet other cool people on a train, and even try new food on a train - go visit the dining car!

Taking a train is no different from landing at an airport when you reach your final destination, so don't forget to reserve a rental car unless you have a ride. Groups going together might reserve a shuttle.

My kids often have events right around the same time as family vacations. We've had to cut family vacations short to support this or that trip.

Why not tack on a few days on either end and make a vacation sandwich? It's always a good idea to arrive a day early anyway so your player has a chance to relax and go into the event fresh. Why not spend that time sampling some of the local food and visiting some of the local sites?

I'm obviously big on creating revenue streams to pay for things. I firmly believe that it's always great to raise the money you need to do whatever you want to do. If you want to buy an X, raise the money to buy X and pocket a little side change if you can.

The Soccer Sidelines offers a fundraising option to listeners. We need to raise capital like everyone else does. Would you like to sell subscriptions to local business discounts for your Club? Would you like to do this directly for The Soccer Sidelines and keep commissions? See me! This option is only valid for US citizens.
---
I Want to Do a Fundraiser
If your local Club doesn't have a fundraising option, but you want to make some money anyway, The Soccer Sidelines can support local initiatives. Local initiatives must be managed by a responsible adult. I can grant access to a fundraising platform that makes me money, makes individual contracted individuals money, and/or can make youth sports, scouts, or school organizations money. If you're interested in talking with me about how you can use our platform to make money for your family, your school, your club, or your other youth organization, please fill out the form below and I will connect with you.
Invite others to Join our Community!