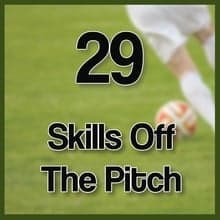 We have experienced a lot of rain this past week and a half. We were able to get games in last Saturday, but practices were all called off this past week. As we wind down the end of the Spring season and look forward to the summer, many Clubs are facing several months of no soccer program. With kids sitting under shelter this week - many in front of video games, and we look at potentially 3 months of soccer down time, it got me thinking about what we can do to improve our game off the pitch.
The Magic Doesn't All Happen on The Pitch
Some people may believe that soccer players are forged under the watchful eye of a coach and a plan. Real soccer players know, however, that great soccer players are forged in the moments between practices and games. Skills don't come in 90 minute increments 1-3 times per week. Practices are where we get the basics and have a chance to work with our team, learn team strategies to apply during games, and correct bad habits. It's the stuff we do at home and in our free time that makes the biggest difference. We control our own destiny.
Doing the "Just One Thing" Thing
There is always one thing we can be doing to improve.
I think I picked this concept up from my days in the military. I call it "just one thing." It reminds me that no matter how bad the circumstances, there is always one thing we can do to improve our situation. Prisoners of war find themselves in unimaginable hardship situations. If you've read or heard stories from people who have had to endure really bad things, there is a common thread among those who survive: they are always focusing on the one thing they can do to improve their situation.
Think about the last long car ride you took. I'm talking about 300 miles or more - the distance many American cars can travel before needing to get some more gas. It takes hours of sitting in a car seat to get to the next waypoint. Sometimes, something as simple as shifting your foot, putting on cruise control and stretching, or slipping a rolled up jacket behind your lower back can make a big difference. When you're driving tired, opening a window, taking a sip of something cold, turning on some music, or listening to a good book on your mobile device can be huge.
Little things are sometimes just what we need to make things a little better. If our goal is to be a better soccer player, what little things can we do to improve our game when the weather keeps us off the field.
Five Things We Can Do on Bad Weather Days
Exercise
Exercise is always good for improving your game. Do stuff you've done at practice or try some stuff you don't normally do. The possibilities are endless. Soccer players can sometimes neglect upper body training. 50 pushups per day are a great way to help balance the body and develop upper body strength. Jumping rope is great for developing fast twitch muscle and aerobic fitness. Core work is awesome for soccer players. The stronger the core, the stronger everything else will be.
---
Watch a Soccer Game
Watching soccer games - pro games, college games, local high school games - these have long been lauded by the coaching community as an excellent way to improve your soccer IQ. Watching games with commentary gives you a birds-eye perspective of what's going on. You get to see techniques and strategies that have taken years to perfect - something to strive for. Maybe you'll spot some things you'd like to try on your own when the weather clears. Maybe you se something you'd like to talk with friends about.
---
Play Wall Ball
Playing against a wall is an awesome way to improve coordination, accuracy, and reflexes. As a coach, I've often prescribed this to older players who started playing a little late and need to catch up with their foot skills. Those who actually find a wall and work on always come back noticeably more skilled. This is good for any soccer player who wants to improve a little - no matter what the age or skill level.
The game is played against any surface by simply kicking the ball, receiving the rebound, and kicking it back to the wall. Vary your distance from the wall and the speed with which you kick the ball. Different distances will give you different bounces and require different reaction times. Varying your speed will help a lot with your ball control.
Another version of Wall Ball is a simple game of pass with a friend. Try to introduce as many variations as you can here too. Speed, distance - and if you're outside or in a big (and safe) indoor area, add volleys, half volleys, headers (if you're older than 12 and have been taught the proper technique), and thigh or chest balls.
---
Read, Watch Videos, or Chat with a Friend About Soccer
Humans gather and talk when they want to solve problems. In a work setting, this happens around the water cooler (or at least it did when work environments had community water coolers). Our social nature makes us really great at solving problems as a group. Talking with friends about soccer will widen your perspective of the game and introduce thoughts you would not have considered on your own. Besides, it's just fun to talk with friends about soccer. Imagine the plays you could put together, remember the great games you played, push one another to contest for the next cross bar... Every bit of this is helpful. Soccer players are always talking about soccer, watching soccer videos on Youtube
---
Play Video Game Soccer with a Friend
Video games get a bad reputation. An obsessive focus on knocking ducks down can be a massive time waster with no real gain to the person playing. However, there is a lot of research on game theory that suggests that some games can be really good for thinking, strategizing, and working through mental challenges. The US Army even adopted video games as a way to train some it's soldiers. The US Navy ran a pilot program that dressed medically trained psychologists in "avatars" and inserted them into a game called Second Life as a way to identify and help PTSD victims. And Soccer players around the word have used games like FIFA to hone their soccer skills and understanding of the game. I know former professional players who swear by soccer video games as a way their friends used to get together (ever virtually) and blow off steam in a productive way.
---
Keeping the Fun Rolling
Being rained out, between seasons, or even between practices doesn't mean that we need to stop having fun or stop improving our soccer abilities. In fact, as a coach, I would argue that if you only practice, work on your fitness, or improve your soccer IQ while you're on the field at practice time, you're not likely to ever be a top flight soccer player.
Get with friends, a TV, online videos, a book, or even a wall and have some fun with the sport you love. You'll be in a lot better shape to play and enjoy the game once the sun comes back out and practice is in session.
---
Invite others to Join our Community!