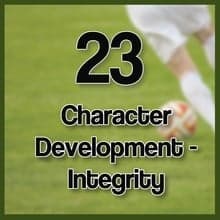 ​​​​"We look for three things when we hire people. We look for intelligence, we look for initiative or energy, and we look for integrity. And if they don't have the latter, the first two will kill you, because if you're going to get someone without integrity, you want them lazy and dumb. I mean, you don't want a spark of energy out of them."
Warren Buffett // Famous Investor
A low single digit percentage of kids across all youth sports are going to go on to play their sport at the collegiate level. If these are the statistics, then kids need to be in youth sports to get much more than a scholarship or a simple athletic experience. I've been arguing for several years now that youth sports is an ideal platform for creating thousands of teachable moments, but we need to be more deliberate about it. We're going to get so much more from youth sports if we deliberately mine the experience for life lessons than if we simply allow it to happen through serendipity.
What Does Integrity - or Lack of Integrity - in Youth Sports Look Like?
"Integrity is doing the right thing, Even when no one is watching."
C.S. Lewis // Famous Novelist
"The supreme quality for leadership is unquestionably integrity. Without it, no real success is possible, no matter whether it is on a section gang, a football field, in an army, or in an office."

Dwight D. Eisenhower // Former General and 34th President of the United States
---
​​​​​How to be deliberate about Developing integrity
Clarify the Principle
Getting clear about the specific behaviors you want to celebrate in the youth sports environment is a critical first step. Getting this in writing empowers your organization to get it into parent manuals and coach's training. Clarity around the subject of integrity will mature over time, but step 1 is to just get started.
Look for Opportunity
Once the picture is clearly written down and baked into coach's training and parent guides, we need to be on the lookout for example behaviors. Identifying them and not taking them for granted is an important step. Once we recognize these behaviors in the youth sports environment, it's time to act.
Reward Behavior
Coaches and parents should be empowered to take action to reward behaviors spelled out in step 1. This may be through immediate verbal rewards, patches, or even submitting email about the behavior so it can be recognized in newsletters and at end-of-season parties. The point is to reward the behaviors we want to see more of.
Be Consistent
Consistency is the thing that gives a development program like this life and longevity. Consistency across coaches, between parents, and over time is needed or the program can devolve into a spaghetti mess of loose threads. Getting this in writing and reviewing it annually is a great way to ensure consistency.
---
​​​​A Culture of Accountability - The Partner to ​Integrity
As much as we sometimes don't like to admit it, human beings aren't the best at being honest or committing to a course of action. Take a look at gym membership numbers between the months of January and June for evidence of this. Millions of people make and break New Year's resolutions every year.
We do pretty well, however, when we help one another out. Two or more people who commit to the same thing or to each other have a much better chance of sticking with their promises. Luckily, youth athletes have a team to lean on - IF that team has a culture of supporting one another.
Creating a culture of accountability starts by bringing the players together around the notion that they are part of something bigger than themselves. Asking players to make a promise, and declare their promise to others on the team gives other players the chance to help hold one another accountable. Promises can range from helping to clean up the field after practice to practicing kicks against a wall at home to improve ball handling skills. Each player's promise is a "gift" to the rest of the team.
As a coach, I start my season with a commitment to my players that I'm working for them when I'm not on the field. They know if I show up with a poorly organized practice session - that I didn't do my homework. If I consistently keep my promise, show up on time, and deliver what I'm supposed to deliver as a coach, I am sending a clear message to the team what Integrity looks like. Whether I like it or not, want to or not, I always come prepared to give them my best. It's okay for team mates to expect the best from one another in the same way. I explicitly tell them so.
They hold me accountable as I hold them accountable. In a best case scenario, we teach our teams to hold themselves accountable to each other.
For older teams (over 14 years of age), I suggest a group texting tool like Group Me for forming a texting group. Ask players to make a commitment to the team and declare it to the rest of the team. During practice and offline, the team can learn to hold one another accountable. Examples:
"Didn't you say you were going to help cleanup after practice?," or
"You said you would be working on your dribbling this weekend. How's it coming?"
For the younger ages, it may be enough to ask them to make a promise to do their best at practice. After practice, a follow up huddle - "Did everyone feel like they did their best today?" and "How are we doing with keeping our promises to ourselves and each other?"
---
Resources For Listeners of This Episode
Invite others to Join our Community!