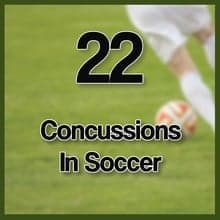 Concussions may as well be called "the invisible injury." They happen to an organ which is completely enclosed by bone and usually covered by hair. It's hard to see a concussion - and consequently, it is often underestimated.
In this episode, we describe concussive injuries, put them in context of soccer related activities, explain how to recognize them, how to respond to them, how the sport is working to minimize them, and some specific things (and equipment) that you can do or buy to help protect the young athletes in your life.
Knowing
A concussion is like a bruise to the brain
Typically invisible to the lay person
Caused by impact of the brain organ with the inside of the cranium
Classified as Major, Minor, and Sub-Concussive
Can accumulate over time
Can be seen by microscope even when not found by an MRI or CT scan
Recognizing
Signs vs Symptoms
Witnessed event
Dazed or stunned
Clumsy movement
Answers slowly
Loses consciousness
Mood, behavior or personality changes
Nausea Vomiting
Headache or pressure
Bothered by light or noise
Sluggish, lazy, foggy, or groggy
Confusion, concentration or memory problems
Reacting
​Remove child from the field
Keep child or teen out of play the day of the game
Have child or teen seen my a health professional experienced in concussion evaluation
Ask health care provider for written instructions for returning to school and returning to play
"Cumulative Brain Injury Develops From a Variety of Sources." Autonomic Advantage, www.autonomicrecovery.com/brain-injury-accumulates-from-a-variety-of-sources/.
"Is Soccer Really Safer Than Football? Concussion Experts Aren't So Sure." Traumatic Brain Injury, www.traumaticbraininjury.net/is-soccer-really-safer-than-football-concussion-experts-arent-so-sure/.
"Female Soccer Players Suffer the Most Concussions in High School Sports." ScienceDaily, ScienceDaily, 14 Mar. 2017, www.sciencedaily.com/releases/2017/03/170314081533.htm.
Boddy, Jessica. "With Concussion Risk In Soccer, Headers May Kick It Up A Notch." NPR, NPR, 1 Feb. 2017, www.npr.org/sections/health-shots/2017/02/01/512848122/with-concussion-risk-in-soccer-headers-may-kick-it-up-a-notch.
Purchase a HALO 3 Protective Headband (Use code "Damascus" for 10% discount at checkout) http://unbouncepages.com/damascus_combo/
---
Invite others to Join our Community!