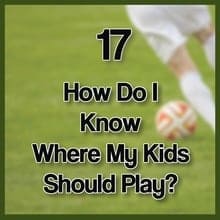 How can we tell where in the soccer system our child should play? In this episode, we look at behaviors you can find at home or on the field that tell us where our kids want to play. Should we move them into a more technical environment, into a more social environment? Which is best for my kid? Let's explore that question...
There is a wide range of programs available as we discussed in Episode #16. The challenge is figuring out which one is right for our family. Money has a voice in our decision. If spending more than $200 isn't something we're prepared to do under any circumstance, then a Classic or Select travel program is probably not a good option. If money is not an issue, then the real drivers should be our children.
There is nothing "less" about a recreation experience. It's just different. If your child is proving themselves to be a more technical player (I discuss this in more detail within), then they might enjoy the opportunity to play with other technical players. If they are using soccer primarily as a platform for cross training, social engagement with friends, fun, fitness, and for something to do besides video games, then a recreation soccer program may be exactly the right choice.
If your player has a ball at their feet every day and loves perfecting their crispy through pass, and your family isn't prepared to spend more than $200, then the best option may be a recreation program, coupled with being more selective about the coach (s).
It bears mentioning that many recreation coaches are accomplished, credentialled, and good at drawing the best from a team of players. There are many that work as a volunteer or for very little compensation.
Ask your coach what their coaching philosophy is. Ask them about their season plans and what kind of goals and culture they strive to develop on their team. In the end, it takes some looking and listening to find the best fit.
The one thing I would stress is not to simply look at one option, then quit. A positive experience can make a lifetime of good memories and form healthy habits that last a lifetime.
Invite others to Join our Community!